ADAM'S RIVER JOURNAL
(Adam Kennedy, President of FoBR, has kayaked the Boyne River every month, of every year, for 27 years.  We are very pleased that he has agreed to share his Journal entries for some of his most recent trips.)
River Journal: August 19, 2017 – Boyne River Kayaking Journal: 9:30a-11:45a – River Sweep Clean Up Day
Gow Litzenburger, Al Sturza and I paddled the river from Dam Road to Lake Charlevoix collecting trash. Right away they were in and out of kayaks, going after litter in the water and along river banks. I paddled a 16' canoe to carry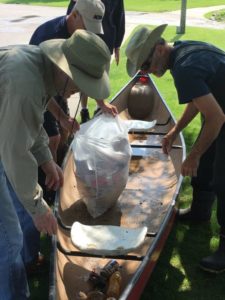 trash. We spent a couple hours on the river and ended up with a boat full of stuff—empty bottles/cans, flip flops, three full beers, two car tires, a 7 ft. plastic slide, a barbecue grill part and other garbage. Gow saw a HUGE turtle just before the mill pond. Kingfishers! Cedar wax wings darted everywhere. Knowing the high water was making for low head clearance at the Lake St. tubes, we left the big items at Gow's place on the river, then paddled out to Lake Charlevoix. I leaned forward as low as possible in the canoe and slipped through the left tube. Beautiful day.
Keep on paddling, Adam Kennedy
River Journal: January 21, 2017 – 45 degrees and sunny, so Michael Ryan and I went
for it.  The water was high from the recent warm weather snow melt but we took our time, taking a few photos.  First we heard it, then we saw a robin!  Strange but true.  A kingfisher, two swans and some ducks were at the millpond. We paddled into Lake Charlevoix but due to lake ice, went back up stream through the tubes to take out. Note: I've since learned that it's not unusual to see non-migrating robins. Apparently some robins are snow birds.
River Journal: August 29, 2016
Michael Ryan and I paddled this beautiful even-ing. Four Sandhill cranes stood on a small island just before the Mill Pond. A green heron gave us a great show from a tree top as we paddled under it. We also saw a muskrat and a great blue heron. No one else on the river.
River Journal: August 21, 2016
Michael Ryan called at 4:30 pm and on the spur of the moment, we headed out to a full river. Rain made the water high and fast. As we drove down Dam Road to the river put it, a doe crossed the road, looking around and twitching her tail. She was followed by not one, not two, but three fawns! The river was about a foot higher than yesterday. For the Boyne, it was running fast, high and furious. We cruised right along all the way to Lake Charlevoix. Beautiful evening.
River Journal: April 27, 2016
Sunny, breezy, 53 degrees.  Michael Ryan and I canoed this trip. My shoulder is tender from surgery so Michael took the stern. It felt fantastic to be on the river again. We couldn't identify a couple of dark ducks, but saw Canadian geese sitting on nests.  We took out a little bit early on Spring St. across from Bowman's property because I couldn't help paddle against the headwind that started at the Mill Pond.  Thanks, Michael, for getting me down the river this month!
River Journal:  January 9, 2016 (11:35am-12:55pm) – "You Must Be Crazy!"
Michael Ryan and I paddled in the mist. It was cool but not cold, 37 degrees with a little wind.
We came across a couple problem areas, but didn't have to portage. It was good that I packed a small saw because we needed it early on. We passed a fisherman then hit the problem. Michael bumped over the log and I went far right to trim out a path.
Michael spied a deer and, having commented that we hadn't seen eagles in a while, soon spotted one. Two young boys were at the river bank near Suzie Dickow's place. As we passed one said, "You must be crazy!" We paddled through to Lake Charlevoix. The sun was over clouded but it wasn't too windy at the mouth. My hands were chilled. Should have worn warmer mitts. Next time.
River Journal:  December 5, 2015 (12:15-2:15 pm) – Christmas Tree
Skied at Boyne Mountain this morning and then headed out to paddle. A brush tangle I cleared earlier in the week made another obstruction farther down river. It was "ram and shuffle" and everyone (friends Michael, Tom and Rocko) easily got over it except me. However, I pulled myself across it without getting out of the kayak, and didn't get wet.
We had a great time, especially with the sun shining. Stopped for a bit of a picnic.  Saw several mallards.  Someone decorated a Christmas tree on a small island behind M-75 storage units. Cute. I took a photo of "Christmas Tree Island."
River Journal:  November 1, 2015 (11:20am-1:05 pm) – Fall Paddle
Overcast, 51 degrees, slight sprinkle towards the end.
This was a mellow paddle. Michael Ryan and I saw only a couple fishermen. Hardly any salmon at this point, but still a few slipping upstream. I see where we need to trim some brush a little before winter. We saw one partridge, one deer, several blue jays. The tamarack trees are a beautiful golden color. Picked up half a dozen empty cans and bottles. The wind picked up as we neared town so we took out near the Eagles' club. There were white caps coming down Lake Charlevoix.
River Journal:  October 20, 2015 (2:20-4:40 pm)
It rained on us twice. Tom Castiglione, Michael Ryan and I stopped under low hanging cedars to wait it out each time. At the last minute, I had decided to leave my rain jacket in the car saying, "I won't need this." Boy, was I wrong.
However it was fairly warm for October and Michael's GoPro was up and running. We're pretty sure we got some salmon on film underwater. There were definitely more salmon on this trip, but overall not as many as previous years. We saw king fishers, a dozen mallards and a large immature bald eagle! Two friends were fishing at the mouth of the river and pretended to throw lures at us. We all laughed.
No sun, no gloves, cold hands.
River Journal:  September 19, 2015 (2:45-4pm) – High Water 
Wow, murky water and the river overflowing the banks. The water appears a foot higher than usual. Michael Ryan and I paddled around brush and trees that we haven't encountered before, and at the start off Dam Road there were a couple tight squeezes. I barely pulled it off without getting wet.  Because our boats were so high in the water, we were privy to an interesting new perspective of the river and surrounding wetlands.  We were able to see the contour of the land better. But we also ran into low hanging branches. We saw kingfishers and then a pair of green herons closer to town.
About half way into town, we came across a paddle stuck underwater. A couple hours prior to this paddle, our group of volunteers were doing the annual fall river monitoring at Old City Park when a bachelor party of 8-10 guys passed.  All of them were wet and one mumbled, "Never again…"
River Journal:  August 12, 2015 (2:00-3:40 pm)
Upon turning off M-75 onto Dam Road, we found it closed to through traffic for road resurfacing. Not to be deterred, Michael Ryan and I portaged our kayaks from the top of the hill to the river. Long way! The river water was very low. We weren't on the river five minutes before coming across a gal sitting on top of a flipped open kayak. Her folks were in kayaks, helping to right her boat. We didn't see them again down river, but found out later they were part of an 11-person group.
Saw plenty of king fishers and cedar wax wings. Super conditions but a lot of bottle and can empties. Once the river opened up, we approached a small island with mysterious bubbles floating in the air. Turns out a couple in a parked canoe on the back side were blowing soap bubbles. Entertaining! There is a new dock at the Long property. Looking forward to the big FoBR annual membership meeting and picnic tonight!
River Journal:  July 25, 2015 (11:00 am – 1:00 pm)
We had a blast introducing newcomers to the Boyne River! First we walked the Boyne Nature Area trail. Then we paddled from Dam Road with our nephew Eric, his finance' Talisha and her daughter, Sinai, on a beautiful sunny 80+ degree day. Eric, Talisha and my wife, Sheri, paddled kayaks while I guided 8 year old Sinai in a canoe. Once the river widened and obstacles were behind us, Sinai paddled a kayak for her first time. She did a great job, catching on quickly to back paddling away from river banks. We saw cedar wax wings and then a pair of green herons near the end.
River Journal: June 2, 2015 (11:30 pm – 1:00 am) –  Full Moon
Tom Castiglione, Michael Ryan and I talked about paddling during a full moon for quite some time. Finally the conditions were right, although slightly cool at 55 degrees or so, but I was comfortable. We left Dam Road with the moon coming up behind us. Occasionally we used head lamps to see where we were going. The river sure looks different at night.
We'd heard there was a tree down over the river but we didn't know the location. Then about half way between Dam Road and Lake Charlevoix, just before the power lines crossing, a huge pine lay all the way across the river. It had fallen over, stump and roots right out of the ground. There was room to squeeze past it on river left, but just barely. It's going to take some work to make this tree passable.
As the river opened up, the moon was higher and we could see clearly. We put our head lamps away. Town was quiet and Lake Charlevoix was calm as we paddled through the tubes and into big water. Fun paddle. Too bad I had to be up early in the morning!
River Journal: May 6, 2015
Absolutely gorgeous day, 75 degrees.  Headed to the river after lunch.  Saw a pileated woodpecker.  Took out near the F.O.E. building in town because the wind picked up – making it difficult to paddle Lake Charlevoix over to the public launch in Veteran's Park.
River Journal: April 18, 2015 
Our annual "Rites of Spring" event.  Four friends did four sports in one day, beginning with a ski run at Boyne Mountain (had to climb the hill), followed by mountain biking the trails at The Hill Preserve and then roller blading at Young State Park. The final event was a Boyne River paddle. We put all four boats on one jeep and headed to Dam Road.  Gorgeous day, 65 degrees.
There were quite a few fishermen after the spring steelhead. We caught glimpses of the steelhead as we paddled.  A hawk soared really high over the power line clearing.  The water was low, so it was a difficult to paddle through and around a couple obstacles.  We finished the Rites with a dart game back at the house.  A great day!
River Journal: March 16, 2015 (3:40 – 5:30 pm)
Overcast, 49 degrees, sprinkled the whole trip. Michael Ryan and I paddled. Very little wind. Winter ice almost gone. Water HIGH. Towards the city limits we saw six swans and numerous geese and ducks.
River Journal: February 21, 2015 (12:40 – 1 pm)
Cold, sunny, fun, quiet, peaceful, tranquil.
I scoped out the river from the storage units on M-75, from the end of the runway in the Air Industrial Park and from the top of the ridge near the Boyne River Nature Area. The river is frozen from downtown back up river to at least this point. Nevertheless, my reluctant wife dropped me at Dam Road and agreed to meet me at the Nature Area parking lot. I wasn't sure how far I could paddle but was prepared with snow shoes and a kayak tow rope.
I portaged the first obstacle at Dam Road. There was a lot of ice. The river was open but only for about 20 minutes. I'd never seen it frozen upriver this far. However, I was able to take out at the middle Nature Area viewing platform.  At one place, the ice shelf came out from both sides of the river with just enough room for a boat to pass. There was evidence that the water backed up, froze, and receded a good 20" before refreezing. The river was seriously frozen 20 feet from the viewing platform with huge slabs of ice piled up. I exited and dragged the kayak up the ravine to meet Sheri and we headed home.
River Journal: January 17, 2015 (12 – 1:30 pm)
32-34 degrees.  Slight wind.  Sun came out as Michael Ryan and I started down the river.  We put in after walking past a major obstacle of fallen trees just off Dam Road.  The trip had a couple of tight places but no portages.  Cedar trees weighted down with snow leaned over the river, but we were able to scoot under them.  Not much wildlife activity although Michael spotted a muskrat swimming under the water.
Eventually river bank ice grew further out to the center of the river and became solid ice near Russ Yardley's place.  Sprawled on the river ice here we found a swan, frozen stiff.  It was slumped forward, neck extended, wings out on either side as if crawling.  It was heartrending.  We proceeded on our voyage by ramming, then shuffling over the ice to the south side.  Stealthily we pushed and dragged our boats to the river's edge, out of cracking ice danger.  We stowed our spray skirts and PFDs in the boats, secured snow shoes on our feet and ropes to the kayaks, and proceeded to drag them out of the woods.  Deep snow and tag alders made for a difficult trek, but eventually the trees thinned so it was easier to walk 20-25 minutes to our car near Kuhn's Bridge.
River Journal: December 7, 2014 (1:25 pm – ? pm)
Sunny day, lots of snow.  Michael Ryan and I were warned right from the get-go by a fisherman at the Dam Road bridge that "there are a lot of downed trees in the river.  You're going to have trouble!"  Like I haven't heard that warning before. . . So off I charged into a huge mess in the first 50 feet of the put in.  Michael was right behind me.  After realizing that there is no way through the downed trees, we frantically paddled back up stream to the same fisherman.  I asked him if he caught any fish while we were gone.  We all laughed.  So, we portaged around a major problem area that will probably be there until spring.  There were no more portages but in the first 20 minutes we found another tough spot.  Three to five deer ran in the woods near the Robinson residence.  Patricia Robinson and I yelled Christmas greetings back and forth.  About half way through the trip, we stopped to enjoy a refreshment in the sun.  At the mill pond were seven flying swans.  We headed to our take out at Veteran's Park and came home for a game of darts.
River Journal: November 2, 2014 (1:30 pm – 2:45 pm)
Michael Ryan and I paddled from Dam Road to Lake Charlevoix, taking out at the Veteran's Park municipal launch.  We picked up half a dozen empties and some trash along the way, and cut two fish hooks from a leaner over the river at head height.  It is a quiet, nippy paddle and we cherished the sun whenever it appeared.  The smell of dead and decaying fish was strong during the first 25 minutes of the trip.  Sightings of live salmon are much fewer than in the past several paddles.  The river isn't real high and there were no other people on the river.  We saw a muskrat, two swans, a Great Blue Heron and one deer.
River Journal: October 29, 2014 (2 pm – 3 pm)
Solo trip.  Cloudy and misting. 48 degrees.  Tiny peeks of blue sky.  Fewer fishermen at Dam Road because the salmon run is almost over.  Rather quiet. Because of the rain, there is little bird action.  I coined a name for not quite a sprinkle but not quite a mist: sprinkle mist.  The paddle turned into a cleanup mission because I wasn't holding up other paddlers while retrieving empty bottles and cans.  My eye was on a discarded broken office chair that had been in the middle of nowhere next to the river for a long time.  I carefully balanced it on the back of my kayak and headed down stream.  Soon after that, seven swans flew in a V just over the tree tops, honking as they passed.  Beautiful!  Didn't see them again on this trip but saw a Great Blue Heron, a hawk, a glimpse of a weasel and a deer near the end of my paddle.  My wife, Sheri, met me at Kuhn's bridge to take out and get that bulky, heavy chair out of the river.
River Journal: September 5, 2014 (1 pm – 2 pm)
My son-in-law, Justin, and I put in at Dam Road and ran into three good Boyne City buddies also putting in there.  Nice coincidence! We traveled together – high, fast, murky water from the recent rainfall.  Because the water was high, we ran into tree branches that we normally float underneath.  Some Kingfishers flew overhead, a Pileated Woodpecker called, and a Great Blue Heron flew up from the river about half-way to Boyne City.  A couple salmon headed up stream, one splashing as it scooted past us.  There was a little headwind so we took out at Kuhn's Bridge, upriver from the millpond.
River Journal: August 27, 2014
Paddling friend Tom Castiglione and I put in at Dam Road, about noon, on a sunny 70 degree day for an hour and half paddle.  The river was low, but rain expected later this week will bring it up.  A Great Blue Heron danced ahead of us for about two-thirds of the paddle.  After a bit we saw two Great Blues!  We didn't meet anyone else on the river. Towards the end, the wind came up so I took out near the Eagles Club while Tom went through Lake Charlevoix to the Old City Park launch.
River Journal: July 28, 2014
A good buddy from Connecticut, Andy Wolf, was visiting family here and we slipped away for a quick Boyne River evening paddle (6:00 to 7:45 pm.  Michael Ryan joined us.  It was slightly chilly, in the 60's, especially when the sun disappeared behind clouds.  Towards the end of the paddle, the sun fully graced us.
We followed a Great Blue Heron down the river for a while.  There was no one else on the river and we saw a King Fisher and some Red Wing Black Birds.
It was fun catching up with Andy.  We took our time, stopping often for beers.
River Journal: June 19, 2014 
Two buddies and I paddled high water during fabulous summer evening weather (6 to 7:30 pm).  We spotted a muskrat and turkey vultures near Kuhn's bridge. Cedar wax wings were prevalent flitting through cedars in the same area. There weren't too many bugs but I did get a few 'squito bites.
I have an ongoing challenge with friends to paddle under a low branch while tossing the paddle over the branch, catching it on the other side. Sometimes it works; sometimes we temporarily lose a paddle.  One friend lost a paddle and we shared some laughs while it was retrieved.
The river constantly changes and we found a new "island" that we dubbed No-name-er.
We had an easy out on Lake Charlevoix – smooth water through the lake to the take out in Veterans Park. This was followed by dinner, a dart game and a little guitar playing and singing.  Fun times in Boyne City!
River Journal:  May 29, 2014
Absolutely gorgeous weather for a river paddle! Rob Bergquist and I did a Thursday evening float (5:15 pm – 7 pm).  There were no bugs and only one other person on the river, a fisherman near Dam Road, who chatted with us a few minutes.
We saw and heard several birds: plover, kingfisher, woodpecker, crow, swan and some mallards.
Afterwards, we joined my wife, Sheri, and friend, Marti, for a patio dinner at Cafe Santé overlooking beautiful Lake Charlevoix. Life is good.
River Journal: April 19, 2014
Three kayaking friends and I left the Dam Road put-in on a warm sunny morning at about 11:30 a.m. There were no portages on this trip, although we encountered a couple tight spots from winter tree fall.
This was a lazy float so when we caught up with a fisherman in a leaking inflatable boat, we offered to tow him down the river. He had also put in at Dam Road and made it half way into town when the leak started. He had to pull over to empty the boat every five minutes or so. He took out at Kuhn's Bridge near the city limits. We continued to the river mouth where our vehicles waited. Michael Ryan picked up the fisherman and gave him a ride into town, after depositing the inflatable boat in the trash!
River Journal: March 30, 2014
Boyne City friends Michael Ryan, Tom Castiglione and I enjoyed a sunny, 39 degree Boyne River paddle. We were cautioned by Koz at the git-go about winter obstructions and we had our first portage near Robinson's property.  We stopped at a place we affectionately call Moondog's Spittoon to sit in the sun.  A few deer scattered into the woods.
A beautiful spring day – although lots of deep snow. We weaseled our kayaks through some precariously tight spots of low branches covered in heavy snow and ice shelves.  Tom portaged one of them.  The river was open all the way to Lake Charlevoix although we carried snow shoes to walk out.
We took out on the Café Sante side of the river mouth because ice blocked the launch. Upon exiting his kayak, an ice shelf broke off and plopped Michael into the cold water. He hustled to his vehicle and headed home to warm up in the hot tub.
In all, a fun trip. Thank God for spring!
River Journal: February 19, 2014
35 degrees; Dam Road to Kuhn's Bridge; 2:20 pm to 4:50 pm
Wow – three portages and deep, deep, deep snow. Michael Ryan and I carried snow shoes in our kayaks. I used our smaller Sparky kayak so the shoes rode in my lap – very cumbersome.
The water level was good, not too high nor too low. There were several tight squeezes to maneuver around cedar trees laden with snow. At one spot, Michael paddled first. I watched him snap some twigs to get through when a humungous chunk of snow shifted slightly over his head. He made it through without a problem but it spooked me. It occurred to me that a several hundred pound chunk of snow could smother a paddler under water. I gingerly picked and pulled myself through safely.
We beached at a spot we call Moondog's Spittoon to take photos, drink a beer and bask in the glorious sunshine.
The portages on this run were tough, tough, tough! Deep snow made it difficult to get out of the river and then back in again. An ice shelf broke off under foot just as I was getting in the boat. I almost went in the water and almost lost the boat.
Four turkeys flew across the river near Robinson's property. We also had several deer sightings along the way.
The river froze up near Kuhn's Bridge so we took out about 600 yards upstream and snow shoed across the bridge to the car.
River Journal: January 13, 2014
Michael Ryan and I paddled from Dam Road to Kuhn's Bridge. Holy Toledo – so much snow from the winter blast we're experiencing! Cedars were weighted down over the water. Nothing like a lotta' snow dumping on our kayaks. It was very difficult to maneuver through low cedars and ice ledges. The river isn't frozen but we carried our snow shoes in case we walked out. We saw three deer, two mergansers and two ruffed grouse.
I expect February to be almost impossible to paddle. We'll see!
River Journal:  December 10, 2013
After shoveling 5" of fresh snow in the driveway, I paddled the Boyne River solo, wearing warm gear and ski goggles. My wife, Sheri, dropped me at Dam Road and picked me up at the river mouth 1.5 hours later. It was 18 degrees and a million bazillion snowflakes fell during the entire trip. I saw mallards, a king fisher, mergansers, about 70 Canadian geese and one muskrat.
This trip was to the exact date of my first Boyne River trip 25 years ago. Since then, I've paddled the river at least once a month year-around and kept a journal of the trips with highlights and paddling partners. Feeling blessed!
 River Journal:  September 30, 2013
Two buddies joined me for a Boyne River paddle in the sunny fall afternoon. There are tons of salmon running upstream! Our kayaks were bonked and we were splashed several times by the single-minded spawning fish. There weren't many anglers, maybe because it was a Monday. But we saw a pair of eagles, a few deer, and then a hawk swooped over my kayak. A beautiful river run!
River Journal:  October 20, 2013
The Boyne River is high and murky due to the abundance of recent rain. I couldn't see salmon, although I know they are heading upstream to spawn.
I passed several fishermen on my solo trip, some having reached the river via the Nature Area's new boardwalks. Two were sitting on one of the wooden benches and both had beards. I said, "Nice beards!" as I floated by. They replied, "So is yours!" We all had grins. There is a certain brotherhood among men with beards sharing a river!
River Journal:   September 9, 2013
The salmon are beginning their fall voyage up the Boyne River to spawn. My kayaking buddy, Michael Ryan, and I saw six or seven great big ones as they zoomed around our boats headed up stream. One was clearly visible in direct sunlight – a wonderful experience.
Attention Birders! The birds were everywhere on this trip. A great blue heron flew up in front of us and headed downstream. We disturbed another large bird from a tree in the woods, but couldn't decide if it was a hawk or an osprey as it flew the other direction. Kingfishers, blue jays, cedar waxwings, mallards, mergansers and a swan graced our presence. The best part, however, was seeing several of the elusive green herons!
River Journal:  August 24, 2013
Big Red, our fiberglass canoe, had a river sweep work out on Saturday, August 24. I went solo in the canoe to hold river trash hunted down by volunteers Angie and John Willis who paddled kayaks.
The event was part of a six-river sweep happening the same day in Northern Michigan. In addition, Ed & Diane Strzelinski, Darryl Parrish, Betty Simon, Sheri Rhoads, John, Angie and I did river cleaning around Dam Road and at four additional Boyne River watershed road crossings. By day's end, we hauled about 170 pounds of junk.
As we paddled and collected rubbish, wildlife seemed appreciative of our efforts. We were witnessed by a great blue heron, a green heron, a kingfisher and deer
River Journal:  Friday, July 26, 2013
Two words: low water!   Two more words: deer flies!!
The BoyneRiver water level is low due to lack of rain. However, paddling conditions are fine with a few bumpy spots but no portages.  Depending on rain of course, the water level can change overnight.
Seasonal deer flies are prevalent on the first half of the river from Dam Road. Generally they don't bite, but tend to swarm around us and land on our heads. This is very annoying but as the river opens and widens towards LakeCharlevoix, the pesky flies all but disappear. They may be around for a couple more weeks.
So, think about paddling, talk about paddling, then call a friend and JUST DO IT!  – Adam Kennedy