There are three impoundments in the Boyne River system.
Starting at the mouth of the river, the first pond is within the Boyne City limits.  It is called the Boyne City Mill Pond by locals.  Moving upstream the largest impoundment is above the Boyne USA power plant dam.  There are no impoundments on the North Branch but the South Branch has an impoundment above the dam at Boyne Falls.
The Boyne City Mill Pond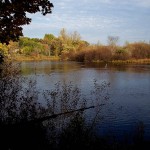 This pond adjoining the flow of the Boyne River on the south side is not really an impoundment.  It does not result from any damming of the river but it affects the river similar to an impoundment.  It collects sediments and provides a large surface area that tends to raise the water temperature during the summer months.  Around the turn of the century it was heavily used by various industries located along the south bank of the river.  In the 1901 Plat Book this pond is referred to as "Little Lake".
The Boyne USA Power Plant and Dam
Just after the turn of the century, the dam and power plant were built as a public utility to provide electricity to the surrounding communities.  The resulting impoundment above the dam covers about 80 acres.  The lake is completely surrounded by private land and is not available for public access.  However, from Dam road upstream about 0.3  miles to the pool below the dam shown above, is one of the most popular fishing spots on the river.  There are steelhead that run in this area in spring and fall, an excellent salmon run in the fall and good brown trout fishing throughout the season.
The Boyne Falls Mill Pond
The dam on the South Branch at Boyne Falls was built prior to the turn of the last century.  A saw mill was located at the site of the auxiliary spillway and a grist mill was located at the opposite end of the pond to the south.  There are local stories that tell of the great brown trout that flourished when the pond was new with deep water.  On opening day there would be bond fires around the pond warming fishermen that would start fishing at midnight.  Today the pond is filled with sediment and shallow.  Brown trout are only occasionally caught.  M-75, the main road between Boyne Falls and Boyne City, crosses over the dam.
Just south of the pond, at Weiss Acres, is the Grist Mill Slide (waterfall) that produces a small, sediment gathering reservoir, as well as impeding fish flow.